Subsections:
If it's been four months since your first booster shot of the COVID-19 vaccine, and you are 50 or older, the FDA announced today you can get a second booster shot (WSJ, free link).
Under the authorization, the older adults can get the shots at least four months after a first booster dose. People will be able to choose between the two vaccines regardless of whether they earlier received a shot from Moderna or Pfizer.
[More...]
(18 comments, 221 words in story) There's More :: Permalink :: Comments
The Colorado Department of Human Health says that
the new COVID-19 variant is in our wastewater
and is 50% more transmissible than Omnicron.
A few days ago, New York City Mayor Eric Adams became the latest in a line of value-challenged politicians brazenly putting the ability to make a buck over the health of city residents.
Mayor Eric Adams of New York City said Thursday, linking the decision to the city's high rate of unemployment and the need to keep employees working. In ending the requirement that athletes and entertainers be vaccinated, he said:

"We're going to make sure we're healthy," he said at a news conference at Citi Field, home of the Mets, where he was joined by executives of the Mets and the Yankees. "And being healthy is not only physically healthy, it's economically healthy.
[More....]
(3 comments, 483 words in story) There's More :: Permalink :: Comments
The New York Times: What Omicron Looks Like in One New York Hospital
Ms. Williams was one of only two nurses working on the Covid-19 ward, with its 36 patients. A few were on ventilators.... One was curled in a fetal position and moaning for water; another was asking to eat. Patients were crammed into every corner, their gurneys arranged, Ms. Williams thought, like blocks in a game of Tetris.

....[T]the patients keep arriving, and in droves: More than 15,000 people with Covid-19 have been hospitalized in the city in the past four weeks, the most since the initial surge. About half of all patients in the city's hospitals now have Covid-19. And there are simply not enough nurses to care for them all.
[More...]
(133 comments, 340 words in story) There's More :: Permalink :: Comments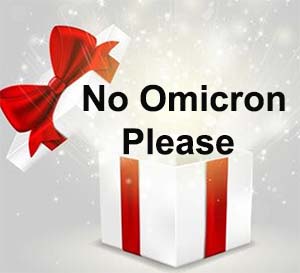 At the global level, we expect 3 billion or more omicron infections in the next two to three months, which will translate into a tripling of global reported cases. Because the infection-detection rate is going to be lower, that will translate into a global surge in hospitalizations, but fortunately smaller than the previous delta surge and previous winter surge in the Northern hemisphere. And even smaller will be the global impact in terms of mortality, but global deaths will go up somewhat in the next few months.
Omicron is in all 50 states. Cases could reach one million a day before the end of the year. Hospitals are breaking records. You can't find a testing kit on the shelves of retail stores. Apparently, Americans don't care.
Nearly 2 million people passed through TSA checkpoints on Tuesday, roughly the same number on the same day in 2019, according to the agency's daily count.
What can you do? Get boosted, wear an N95 (or at least a K95) mask. Stay home. Make sure any guests have been tested.
This is an open thread, all topics welcome.
(64 comments) Permalink :: Comments
General Colin Powell has died from complications from COVID-19. He was 84 and fully vaccinated. However, his immune system had been compromised by having had blood cancer.
Powell, who was 84, received his second Pfizer shot in February but was immunocompromised as a result of his cancer and suffered from Parkinson's disease, [his longtime assistant Peggy] Cifrino said in an interview. Multiple myeloma is a blood cancer that severely impairs the immune system, lowering the effectiveness of vaccines.

"He was actually scheduled to receive his booster when he fell ill last week," Cifrino said. "He couldn't go to his appointment. … He thought he was just not feeling quite right, and he went to the hospital."
According to the CDC which has followed 7,178 deaths among fully vaccinated people, 85% of the deaths occurred in the over age 65 population. [More...]
(5 comments, 302 words in story) There's More :: Permalink :: Comments
Could there be any more dangerous time than now, when Delta makes up 83% of all new cases and we're being told not to worry if you get Delta after being vaccinated because the vaccines are likely to prevent serious illness or death. They tell us only the unvaccinated need fear serious illness or death.
I don't buy that for a second. Nor do I care whether my chance of getting a serious sillness or death from Delta is 3% or 10%. That means some people, whatever the number, are going to get sick and die from it. Our lottery chances may be 85 million to 1 and people still buy tickets because they know someone usually wins. In this case, it's like drawing the Old Maid card, and I don't want to play that game.
Around the world, countries are imposing more lockdowns. The numbers in Cancun are so high that some hotels have designated specific floors for sick tourists. Cabo San Lucas is also through the roof. Australia has shut down Sydney. New Zealand has reimposed quarrantines for travel from Australia. [More...]
(158 comments, 565 words in story) There's More :: Permalink :: Comments
The Government sounds so frustrated that the false warnings spreading among the anti-vaxxers is having more of an impact than their doctors.
You can't shut social media down, that would be a violation of the First (and probably more) Amendments.
But Congress could still take radical action. Here's why I'm not President: No one would go along with my plans. This is what I would do to stop the stupidity of the anti-vaxxers from spreading any further: Get Congress to pass a law that mandates a sales/use tax on all social media postings. You want to post on Twitter or FB, it will cost you a dollar for each one. You want to reply: same thing. Every 30 days the social media companies have to turn in their tax money with a report of how much money they collected. And it better match the number of posts and comments or there will be a hefty fine. [More...]
(47 comments, 920 words in story) There's More :: Permalink :: Comments
The government wants you to believe only the unvaccinated need fear the Delta variant. It says that the vaccines are 90% effective against COVID-19 and almost as effective against the Delta variant. So even though the variants are more transmissible and may make people sicker, only the unvaccinated need fear them. The vaccinated can toss their masks, cram into elevators, cheer and sing in each others faces at sports events and concerts, and go back to their regular lives.
But there are at least 10,000 "break-through" cases of people who have gotten infected with COVID-19 or a variant after being fully vaccinated. Yes, that's a tiny percentage of all people. But that's not how people make decisions. For example, you only have a miniscule chance of winning the lottery but millions of people still buy lottery tickets. Why? Because they know someone is likely to win, and they figure it might as well be them -- they have just as much chance as anybody else.
By the same token, someone is going to be in that group of 10,000 who get the virus or the Delta variant after being fully vaccinated. Why take a chance it might be you? [More....]
(13 comments, 404 words in story) There's More :: Permalink :: Comments
It is beyond head-scratching that Texas announced the end of a mask mandate yesterday and lifted coronavirus restrictions statewide.
America (and even Texas) are not at a safe place. Yes, the numbers are decreasing, but that could change in an instant. Such as by people not wearing masks and congregating outside their personal bubbles.
President Biden today called Texas' move "neanderthal". I agree.
Biden says follow the science. But the goverment is also supportive of expanding in person dining, allowing concerts, and greater capacity at public events. It feels like we are being dressed by two different mothers. [More...]
(112 comments, 404 words in story) There's More :: Permalink :: Comments
If you were counting on a $1,400. stimulus check, you might be disappointed. If you are single and made more than $80,000 or filed jointly and earned more than $160,000 you will get zilch, according to a compromise Joe Biden agreed to today.
Under the new proposal blessed by Mr. Biden, individuals earning more than $80,000 and households with incomes exceeding $160,000 would be disqualified from receiving stimulus checks. The caps are $20,000 lower than they were in the last round, wiping out payments for millions of Americans.

The plan would send $1,400 checks to individuals earning up to $75,000, single parents with children earning $112,500 and couples making $150,000, with the amount gradually falling for people with larger incomes.
Between 8 and 12 million people who received past stimulus checks are expected not to received this new round. [More...]
(54 comments, 269 words in story) There's More :: Permalink :: Comments
Watching the photos and news reports of people celebrating in Tampa after the Superbowl is simply sickening on so many levels.
Obviously, sports is not my field. I wouldn't bother to waste my time writing about it except I happened to see news photos of the [mostly young] maskless fools in Tampa packed next to each other like sardines, yelling and hooting in each other's faces as they celebrated in public after the game.
Shorter version: You just can't fix stupid -- or selfish. COVID takes a holiday for no one, not rock stars, athletes or fans.
[More...]
(20 comments, 447 words in story) There's More :: Permalink :: Comments