The Supreme Court today invalidated Donald Trump's order ending President Obama's DACA program for DREAMERS, which provided a two year haven from deportation for children who came to this country without proper papers and met certain criteria. The program did not create a "path to citizenship". However, for the more than 700,000 who enrolled, the two year respite from deportation was renewable.
The Court did not rule on whether the program was lawful or not. It merely held that Trump's order was procedurally invalid because it did not provide enough of a reason for ending DACA. The opinion is here.
We address only whether the agency complied with the procedural requirement that it provide a reasoned explanation for its action."
Chief Justice John Roberts joined with the four liberal justices to hold that Trump's explanation at the time was inadequate. He's free to try again, but since any grounds he gives will be challenged through the courts, the final resolution will likely be after the November election, so DREAMERS can breathe a sigh of relief today.
(39 comments) Permalink :: Comments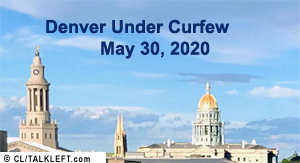 The City and County of Denver has just announced a curfew for tonight. Appearing on my cell phone: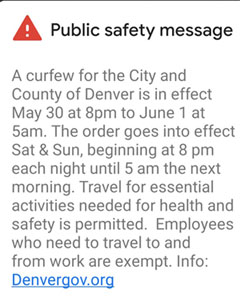 I don't mind the curfew as much as I do the end of social distancing in Denver. (From today at the state capitol).
The past two days most of the protesters, even in the afternoon, wore masks. On Friday afternoon, at least when they approached the corner of my house, many seemed to stay more than 6 feet apart. [More...]
(201 comments, 333 words in story) There's More :: Permalink :: Comments
[More...]
(15 comments, 219 words in story) There's More :: Permalink :: Comments
Protesters against Donald Trump's immigration raids were out in force across the country today as cities implemented policies to assist the immigrant community.
The raids are expected in Atlanta, Baltimore, Chicago, Denver, Houston, LA, Miami, NYC, Newark, San Francisco and Washington, DC. New Orleans got a delay due to the storm.
(1 comment) Permalink :: Comments
A new report finds that growth in the number of persons who are unlawfully present in the U.S. does not lead to higher local crime rates." Previous studies did not differentiate between lawfully present immigrants and those who are unlawfully present.
There is no immigrant crime wave in the U.S. Unfortunately, there is manic xenophobia thanks to the man with the desk in the oval office.
(3 comments) Permalink :: Comments
A border fence and gate did not prevent thousands in the Caravan of Immigrants from crossing the Mexican border despite the preventive efforts and large numbers of Mexican police. Here is the most compelling slideshow of images I've found, just scroll down the page to them as there is no independent link.
The Mexican police ultimately gave up. Here is a one minute video of the moment they succeeded into crossing the border.
(3 comments) Permalink :: Comments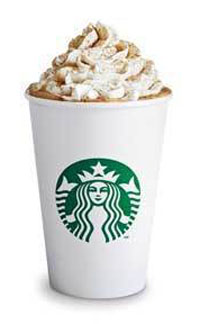 Starbucks announced today it will close all of its 8,000 stores and its affilaiate stores for an afternoon next month during which more than 175,000 employees will undergo racial bias training.
The curriculum to be designed by nationally recognized experts and will be available for other companies to use:
The curriculum will be developed with guidance from several national and local experts confronting racial bias, including Bryan Stevenson, founder and executive director of the Equal Justice Initiative; Sherrilyn Ifill, president and director-counsel of the NAACP Legal Defense and Education Fund; Heather McGhee, president of Demos; former U.S. Attorney General Eric Holder; and Jonathan Greenblatt, ceo of the Anti-Defamation League. Starbucks will involve these experts in monitoring and reviewing the effectiveness of the measures we undertake.
I've met Bryan Stevenson and have listened to him speak several times. He is beyond top notch. Good for Starbucks, not only for recognizing the problem, but engaging in meaningful dialogue on how to correct it. And for offering to share the training with other companies. [More...]
(95 comments, 315 words in story) There's More :: Permalink :: Comments
A video has been revealed of Cambridge Analyitca officials. You can watch it here. In it they talk to an undercover reporter "how Cambridge Analytica secretly campaigns in elections across the world. Bosses were filmed talking about using bribes, ex-spies, fake IDs and sex workers."
Channel 4 news also recorded CA CEO Alexander Nix saying CA ran the Trump digital campaign , ran the TV campaign, that he personally met Donald Trump many times. Nix says on the tape CA did all the research, got all the data, did all the analytics, all the targeting. He says their data informed all of Trump's strategy.
Here's a video presentation by Nix in his Online Marketing Rockstars Keynote in Germany on the work CA did for Trump's Campaign and the strategies the company used.[More...]
(15 comments, 733 words in story) There's More :: Permalink :: Comments
The FTC has opened an investigation into Cambridge Analytica.
At issue for the company -- and at the heart of the FTC probe -- is a settlement they reached with the agency in November 2011, ending an investigation that Facebook deceived users about the privacy protections they are afforded on the site.

...Among other requirements, the resulting consent decree mandated that Facebook must notify users and obtain their permission before data about them is shared beyond the privacy settings they have established. It also subjected Facebook to 20 years of privacy checkups to ensure its compliance. [More...]
(247 words in story) There's More :: Permalink :: Comments
In the "You Can't Make This Stuff Up" and "Why They Hate Us" Departments: ICE sat outside a hospital this week where a 10 year old with cerebral palsy was undergoing emergency gall bladder surgery, and when it was over and she was out of the recovery room, took her to an immigration facility 150 miles from her home.
"It is stunning that federal agents would wait outside of a hospital room for a 10-year-old child with cerebral palsy," U.S. Representative Joaquin Castro of Texas said. "They are treating her like a convict."
The child, Rosa Maria, was three months old when she was brought to the U.S. She has has the mental capacity of a four or five year old, and has no idea what is happening.
(31 comments) Permalink :: Comments
AG Sessions wants Congress to tighten asylum rules.
Attorney General Jeff Sessions called on Congress Thursday to tighten the rules for people seeking asylum through a system he said is filled with "rampant abuse and fraud."

..."The system is being gamed," Sessions said. "Over the years, smart attorneys have exploited loopholes in the law, court rulings and lack of resources to substantially undermine the intent of Congress. . . . There is no cost or risk for those who make a baseless asylum claim."
Did he mention how the Department of Justice games the system by offering asylum to large scale drug traffickers in exchange for their testimony against other traffickers? Including murderers? I'd bet not.
(1 comment) Permalink :: Comments
Muhammad Rabbani, the Director of CAGE has been convicted in the UK of a terrorism offense for refusing to provide the pin number to cell phone and password to his laptop during a search at Heathrow Airport. He was returning from a wedding in Syria.
He was convicted at Westminster Magistrates' Court of one count of wilfully obstructing a stop-and-search under Section 7 of the Terrorism Act.

... Schedule 7 of the Terrorism Act gives officers their right to stop and search people "with or without suspicion".
He was given a conditional discharge and fined. [More...]
(1 comment, 179 words in story) There's More :: Permalink :: Comments