Subsections:
Hunter Biden yesterday sued Rudy Guiliani and his companies and a variety of "John Does" for violations of the Computer Fraud and Abuse Act.
In the lawsuit, filed in the Central District of California, the younger Biden says that Giuliani and his former lawyer Robert Costello had spent years "hacking into, tampering with, manipulating, copying, disseminating, and generally obsessing over data that they were given that was taken or stolen from" his devices.
The basis for the claims includes Giuliani and Costello separately bragging about how they did it on podcasts and in newspaper articles. The Complaint is here.
Just another episode of "Rudy, How Low Can You Go?
(15 comments) Permalink :: Comments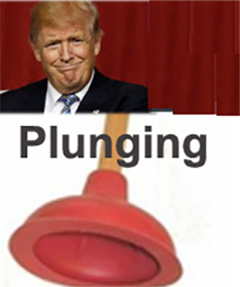 Last week, former Trump lawyer Michael Cohen testified twice before the state grand jury (free link) and Stormy Daniels, the former adult film star, met with state prosecutors in New York. The grand jury is investigating Trump over a payment Cohen allegedly paid Daniels to keep quiet about a one-night sexcapade Daniels claims she had with Trump in 2006. (Trump married Melania in 2005 and Barron Trump was born in 2006).
Today, Donald Trump announced on his social media site that he expects to be arrested on Tuesday. He called on his supporters to protest and "take our nation back." [More...]
(64 comments, 1307 words in story) There's More :: Permalink :: Comments
Update: I think this might have been Biden's best speech. I watched almost all of it, changing the channel only when he started talking about crime, fentanyl and the border, to keep my blood pressure in check. He actually seemed real, likeable, and sincere for minutes at a time.
He was so energized. At first I wondered if he had received a B-12 shot this afternoon, but he seemed as happy as he was energized, so I decided probably not. I think he practiced a lot, had a very good speechwriter, stuck to the script with a minimum of ad-libbing, and was enthused talking about his accomplishments. After he got away with his trick of baiting the handful of radical far-right Congresspersons in the audience over Medicare and Social Security, there was no stopping him. It was like watching a comedian who is tickled pink when he makes his audience laugh for the first time.
*Original Post*:
Joe Biden will deliver his State of the Union address tonight. You can watch everywhere. This is the transcript of his speech as prepared. [More...]
(101 comments, 592 words in story) There's More :: Permalink :: Comments
Sometimes in life, you try out for something and don't get it. Sometimes, you get up and try again. And maybe even a third time.
But when you fail at something as many times as Kevin McCarthy has failed to get the votes to make him Speaker of the House, doesn't there come a point when you figure out this isn't for you and you should just dust yourself off and move on?
When you fail so many times at being elected to the same position, at what point does a reasonable person acknowledge the constituency doesn't want him? And that even should he win on the 5th or 6th try, he'll never be viewed as a leader or with respect from either side? He'll only be viewed as divisive.
Republicans don't need Kevin McCarthy, and America needs him even less. It's time for him to bow out.
(77 comments) Permalink :: Comments
This is like a joke. A $1.66 trillion spending measure was unveiled on Tuesday. It deletes the provision that would have provided the public with free access to federal court records. While Mexico announces the U.S. has agreed to provide it low-interest loans to invest in solar energy.
I spend hundreds of dollars a month on PACER, much of which is to ensure my historical and present facts are correct in writing TalkLeft. I use Lexis for my law practice. Public records are public and should be retrievable by all of us at no cost. (Colorado's efiling system is even worse -- it costs $15.00 just to look at a particular case docket if you aren't counsel of record.)
Joe Biden needs to turn around his thinking cap and stop the endless money going around the world, especially for war and the war on drugs. People here are in need as well, of everything from more pay to teachers, more access to health care and taking better care of our senior citizens.
Please Joe Biden, don't run again. Your noggin' just can't do this. We don't need a country run by your surrogates. We should have a real leader..
(7 comments) Permalink :: Comments
The Jan. 6 hearings continue today. It will be in four parts and focus on Trump's failed plan to pressure Mike Pence into acting unilaterally to reject state electors and block the vote certification. The committee will try to make the case that Trump's pressure on Pence contributed to the violence at the capitol and put Pence at physical risk.
I hope people watching today's hearing don't forget that while Trump is the villain, there's no reason to make Pence into a victim or hero. Mike Pence is no friend to democracy. At a speech in Arizona on Monday, he called for a return to Trump's immigration policies and completion of Trump's ridiculous border wall. (I wonder if he also said Mexico would pay for it).
We need to keep our eye on the ball -- eviscerating any remaining support Trump has prior to the 2022 midterm elections.
(201 comments) Permalink :: Comments
Joe Biden delivered his first State of the Union address tonight.
In a speech that focused on the war in Ukraine before pivoting to domestic challenges, Biden said the American people are ready for the task ahead of them in keeping the world united in the face of autocracy.

"Now is the hour, our moment of responsibility. Our test of resolve and conscience, of history itself. It is in this moment that our character is formed. Our purpose is found. Our future is forged," Biden said in closing.

"Well, I know this nation. We will meet the test. To protect freedom and liberty, to expand fairness and opportunity. We will save democracy. As hard as these times have been, I am more optimistic about America today than I have been my whole life."
More....
(200 comments, 676 words in story) There's More :: Permalink :: Comments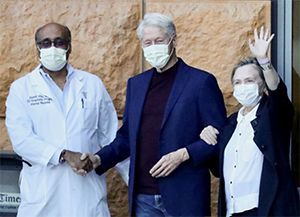 Former President Bill Clinton has left the hospital in Irvine, CA for his home in New York. A urinary infection led to sepsis shock, but he's been treated and his blood levels have returned to normal. He can continue his treatment at home.
This Reuters article seems more like an obituary than a news article to me the way it sterilely recounts his past achievements. I'm sure every media organization has had his obituary written for ages -- I wish Bill Clinton many more years of health and meaningful activity before that day comes.
New York Governor Andrew Cuomo resigned today.
Five months ago, I opined he would not and should not resign.
....Stripping someone of their job before they have been found guilty of a crime, based on disputed factual allegations, is simply unacceptable. This is not Alice in Wonderland ("No, no said the Queen. First the punishment, then the verdict").

There are thousands if not millions of Andrew Cuomos out there -- men over 50 who are or were in positions of power in business or government who are as sexist as the day is long. Educate them, privately. Write them a letter and tell them how they made you feel. Ask them to acknowledge and validate your feelings according to today's norms, even if these norms did not exist when the event happened. If your goal is to end sexual harassment in the workplace, rather than to get 15 minutes of fame, reap a financial benefit or get personal revenge, this should suffice.
[More...]
(31 comments, 501 words in story) There's More :: Permalink :: Comments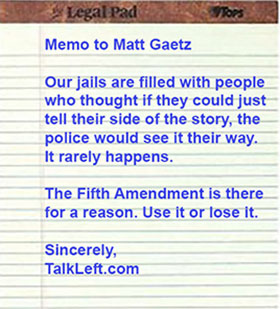 Matt Gaetz was a lawyer before he ran for Congress. I have no idea why he believes he can talk his way to innocence in a pending criminal investigation involving alleged sex trafficking of a minor, but it seems he's intent on trying.
Here's a summary of the events to date in the Gaetz investigation by Florida Politics.
When the New York Times first broke the story, Gaetz responded with a denial on Twitter claiming he and his father, former Florida state senator Don Gaetz, were victims of a $25 million extortion plot by a former DOJ official who wanted the money to free a former FBI agent taken hostage in Iran. (The FBI said months ago it thinks the hostage is dead). According to Gaetz, the former DOJ official offered to use his influence to help Gaetz in the pending sex trafficking investigation in exchange for the money. Gaetz claimed, and the FBI doesn't dispute, that Don Gaetz wore a wire at its request to get the former DOJ official to admit the plot on tape. Apparently the former DOJ official didn't bite. [More...]
(28 comments, 1156 words in story) There's More :: Permalink :: Comments
Senator Ted Cruz, not realizing the crassness of his flying to Cancun for a few days of R&R while his constituents in Texas freeze their as*s off with no heat and power, has a moment of Joni Mitchell clarity:
Turn this crazy bird around I shouldn't have got on this flight tonight

Talk about poor optics. And now his story is he was just flying his family down to tuck them in, he was always going to fly right back to Texas. Sorry, no sale.
Here he is on the plane going to Cancun. A few hours ago he was waitlisted for an upgrade on today on the return flight.
Shorter version on Twitter: #TedFled.
Here's a more spirited version of the song by Nazareth. [More...]
(24 comments, 163 words in story) There's More :: Permalink :: Comments