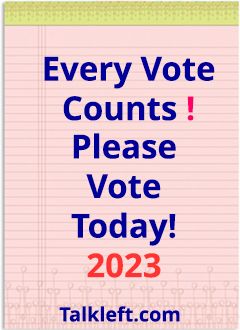 We get the Government we elect.
Please don't forget to vote.
(37 comments) Permalink :: Comments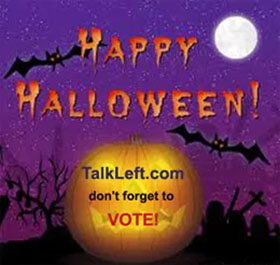 Happy Halloween to all of you who just love, love, love this holiday. If you costumed up as a real person or character, please let us know who you chose.
For any of you who went trick or treating, let us know if you got your favorite candy and what it is. And if you put a "no candy here" sign on your front door, let us know that, too.
I think it's good to put a little merriment in the air for one night -- we could all use a night's relief from the horrible suffering, cruelty and death we're watching and reading about 24/7 in the Middle East. May the war be over soon.
This is an open thread, all topics welcome.
(100 comments) Permalink :: Comments
It's time for a new open thread. In non-Trump news:
Sen. Diane Feinstein has died at age 91.
El Chapo's youngest son, Ovidio Guzman, has been extradited to Chicago, charged with many crimes, related to cocaine and meth. It's the same 2009 case that began with Vicente Zambada-Niebla, the son of El Mayo, Ismael Zambada-Garcia, who along with El Chapo, led the Sinaloa cartel for many years. Ovidio is charged in the 12th Superseding Indictment in the case. He's pleaded not guilty and is represented by Jeffrey Lichtman, the New York lawyer who was the lead lawyer for El Chapo at his trial, and who then represented El Chapo's wife Emma, who is already done with her prison sentence and back in Mexico with her daughters.
The Washington Post reports Yiddish is making a comeback. I only know a few words, since no one in my household spoke it, but here's a phrase I never heard before: "zolst vaksn tzibbeles im pipik" which translates to: "You should grow onions in your belly button".
It would make a great ending to any post about Donald Trump and his supporters.
This is an open thread, all topics welcome.
(154 comments) Permalink :: Comments
R.I.P. Robbie Robertson, who passed away today at the age of 80 after a long illness. What a great musician and songwriter he was.
If you haven't seen The Last Waltz, please do. Here is I Shall Be Released. Robbie looks so happy as he's playing, and don't miss his comments during an interview at the end of the song. Eric Clapton, Bob Dylan, Neil Young, Van Morrison, Ringo, Joni Mitchell, Ronnie Wood and more all sharing the stage to sing. It gives me the chills just watching all that talent at the same time.
This is an open thread, all topics welcome.
(137 comments) Permalink :: Comments
Our last open thread is full. Here is a new one, all topics welcome.
I've really been busy with life in real-time, and haven't had enough free virtual time to write up my thoughts on the news.

Thank you to all of you who are commenting. I really do miss being able to contribute here on a daily basis, and I am looking forward to resuming my posts soon.
(201 comments) Permalink :: Comments
It's time for a new open thread, all topics welcome.
There's a lot to unpack (free link) in this week's Supreme Court decisions, and I'm hoping that Peter G. will lead the way.
There's a ton of drama in the media coverage of Yevgeny Prigozhin, head of the Wagner Group, and his attempted "coup" or minor "protest" against Moscow or its military, depending on whose version you choose to believe, along with belated appearances by Putin and the comments of the ever-chatty President of Belarus.
I tend to pay more attention to news in Mexico, Colombia and even Venezuela. I keep seeing reports that the next prisoner swap may include Alex Saab. I hope so. Kidnapping him in Cape Verde and extraditing him to the U.S. was wrong, and in my view, illegal.
I'll close with this bit of news from Cuba: Elián González, now 29, has become a member of Congress in Cuba:
n April, González was sworn in as a member of Cuba's National Assembly of People's Power, effectively Cuba's congress. He represents Cárdenas, a town in Matanzas province about 80 miles (about 130 kilometers) east of Havana where he lived until his mother took him to sea. He still lives in the province.
Again, all topics welcome, including what you are cooking for this 4th of July.
(202 comments) Permalink :: Comments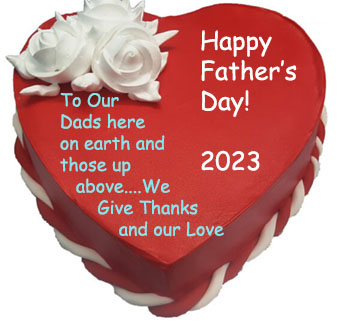 Why are most of the songs about fathers so sad? I was looking for an upbeat song and came up empty. On my third try, I found one that resonated with me, probably because my dad took me to a lot of NY Yankee games when I was a kid. There was Mickey Mantle, Roger Maris, Yogi Berra, and my personal favorite, Hector Lopez (because we had seats at third base and he was right in front of me.) I'd stand up and hoot and holler "Hector! Hector!" till I was hoarse. My dad never told me to pipe down and sit, because even though I was probably embarrassing the hell out of him, he could see how much fun I was having.
As for the song: A great version by Carly Simon, that turns very upbeat after a minute or so.
I hope everyone remembered to call their dads today (if not, it's not too late), and for those like me, whose dad is no longer here, I hope you took a moment to look up at the sky and whisper "thanks!"
Let us know how you spent Fathers Day. This is an open thread, all topics welcome!
(200 comments) Permalink :: Comments
Looks like we need a new open thread. I've had a busy week at work, I'll try to catch up over the weekend.
All topics welcome.
(200 comments) Permalink :: Comments
Talkleft was down yesterday and today. Colin (our webmaster) fixed it this afternoon and hopefully it is cured of whatever was ailing it. This will be a big week of news, so please bear with us.
Colin also fixed TalkLeft Premium, Marijuana Laws and Popleft (which I have neglected the past few years but one day will return to.) We will also restore the George Zimmerman and Duke Lacrosse forums one of these days, for historical purposes.
I think it's significant that the 2006 story of Stormy Daniels and Trump first was printed in an online gossip site called "Dirty" and then by In Touch Magazine back in 2011. (Here is a version of the In Touch Magazine article as modified in 2018). At the time, both Trump and Stormy (and Cohen) issued denials. It is inconceivable to me that Melania didn't know about it. So any defense that the hush money payment in 2016, or repayments to Cohen in 2017, were for the purpose of keeping Melania from learning about the alleged affair, rather than to keep his campaign from tanking (in the days following the Billy Bush tape) doesn't seem viable to me. [More...]
(200 comments, 425 words in story) There's More :: Permalink :: Comments
Incredible performance by Shakira (with BZRP) on the Tonight Show last week. I've never seen a late night TV show audience so engaged in the song that they know every word and move in Spanish. (It's her "swan song" to her long- time partner/father of her kids, the soccer player Pique, who cheated on her with a much younger female, and who is not helping her with her tax evasion case pending in Spain). It is the number one song globally.
Click on the bottom right corner of the video to view it in full size. You can also click the "cc" button to read the lyrics in English, you won't want to miss them. She has created a "sisterhood", not just a lot of fans with this one.
This is an open thread, all topics welcome.
(167 comments) Permalink :: Comments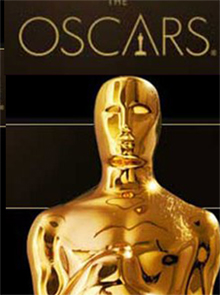 Was "the Slap" really only a year ago? Yes.
Am I glad Jimmy Kimmel is back as host? Yes. (He sounds like he has a cold).
Have I seen the movies up for awards? No, but I never do ahead of time.
Are the Oscars over-indulgent? Yes. Have they diversified? Yes, but they're not there yet.
Is there a reason to watch? Yes. Fashion, hair, jewels and the true joy on the face of that actor or ensemble that didn't expect to win but did.
Glenn Close had to cancel her appearance because she came down with COVID. Lady Gaga will be appearing after all.
Here's a place to talk about the Oscars.
(10 comments) Permalink :: Comments