There was a briefing at the Pentagon today (video here) on the al-Baghdadi capture or kill Mission.
The capture or kill mission was in the works for months. Used intelligence from the Pentagon and other agencies (did not credit intel from other countries) to locate him.
"Devastating blow" to members of

ISIS

who have been deprived of their spiritual leader.
Our mission is not to act as a police force in Syria.
We're going after the oil. We want the "Syrian Democratic Forces" (SDF) to reap oil funds which allows them to maintain prisons for

ISIS

members.
Throws shade at Turkey.
We're now in the "next phase of the campaign". We will hunt to the ends of the earth people who would harm the

U.S.
[More...]
(265 words in story) There's More :: Permalink :: Comments
Donald Trump is very excited. He will hold a presser during Sunday morning news shows to tell everyone a U.S. airstrike he approved took out ISIS leader Abu Bakr al Baghdadi.
There are multiple reports among Middle East sources claiming al-Baghdadi toggled his suicide vest and killed himself.
Iraqi TV says it will air the raid footage, and that Iraqi intelligence helped pinpoint Baghdadi's location.
Turkey too is claiming its share of credit, saying they knew Baghdadi was in Idlib two days ago and they got a warning about the imminent US raid.
A Syrian Human Rights group says 9 people were killed in the raid. I've seen pictures of two dead males laying on the ground but neither was Baghdadi. [More...]

(14 comments, 332 words in story) There's More :: Permalink :: Comments
The New York Times has conducted an intensive investigation of files ISIS left behind in Iraq. What did it find? Among other things, that ISIS was self-financed, and its biggest income producer was not oil and gas, but tax revenue.
How did a group whose spectacles of violence galvanized the world against it hold onto so much land for so long? Part of the answer can be found in more than 15,000 pages of internal Islamic State documents I recovered during five trips to Iraq over more than a year. [More...]
(6 comments, 718 words in story) There's More :: Permalink :: Comments
This weekend, the U.S. embassy in Turkey was closed due to unspecified threats.
Yesterday, Turkey arrested four suspected ISIS members who were plotting an attack on the embassy. The four are Iraqi.
Turkey says it got the information from U.S sources.
"Upon intelligence coming to our units from U.S. sources that terrorist actions could be undertaken targeting the U.S. Embassy and where U.S. citizens are staying, security measures have been reviewed and extra measures have been taken," the Governor's Office said.
Elswhere in Turkey, another 12 foreign suspected ISIeS members have been arrested, and Turkish police are searching for another 8.
Those who have been detained are being "accused of trying to recruit members for ISIL and were 'in contact with people in conflict zones.' "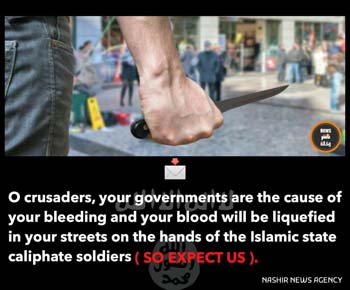 As Donald Trump golfs in Florida, claiming credit for defeating ISIS, ISIS is gaining ground in Afghanistan and increasing media communications to its supporters urging them to make lone attacks in their home countries.
Their English spelling skills aren't as good as those who created older posters, but they get the point across.
A few other messages posted today by ISIS' official news agency Nashir News (hat tip to ISIS researcher Pieter in Belgium):
(1 comment, 694 words in story) There's More :: Permalink :: Comments
Update 11 pm MT
: Answer: Yes, foreign ISIS fighters are part of the agreement
and will be able to leave Raqqa
. Again, as stated below, the U.S. opposed this, preferring the foreign fighters be held accountable for their crimes.
Syrian and foreign ISIL fighters have agreed to leave their one-time bastion Raqqa under an agreement brokered by tribal leaders to prevent more civilian deaths in the city. Omar Alloush, an official of the Raqqa Civil Council, said a deal had been reached to allow fighters out of the city, which is on the verge of being captured by the US-backed Syrian Democratic Forces (SDF) after months of heavy fighting.

"Foreign fighters are included in the deal," he said.
Alloush says the remaining ISIS fighters are holding 400 hundred civilian hostages at the National Hospital in Raqqa. The Syrian Observatory for Human Rights says the last Syrian ISIS fighters left by bus today, and more buses are arriving tongight which are expected to take the foreign fighters and the families from Raqqa, most likely to Deir Ezzor [More...]
(767 words in story) There's More :: Permalink :: Comments
As ISIS continues its struggle to maintain its relevance in the virtual world as it loses more and more territory and any semblence of being a "state" in the physical world, it has added a new feature: A call to women to participate in launching attacks.
In a new edition of its Arabic language newspaper, the terrorist group told female supporters it was an "obligation" for them to wage physical jihad.

"Today, in the context of the war against the Islamic State, it has become necessary for female Muslims to fulfil their duties on all fronts in supporting the mujahedeen in this battle," the article said, adding that women should "prepare themselves to defend their religion by sacrificing themselves by Allah".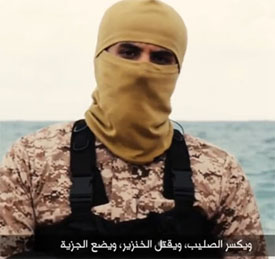 The 2015 ISIS video showing the beheadings of 21 Egyptian Coptic Christians on a beach in Sirte, Libya was one of its most brutal. It featured an English-speaking spokesman who sounded American. One of the big mysteries was his identity -- and which beach the killings occurred on.
Libya police have now identified him as Abu Amer al-Jazrawi. He is deceased. (Once again, the U.S. got it wrong, as I suggested here).
The "full details" of the slaughter seem to mostly have been supplied by detainees under interrogation. One says he was located behind the camera as it was being filmed. The story is available on the group's Facebook page, in Arabic. The translation on FB is terrible. The beach is the one behind the Mahari hotel in Sirte (the same one where 50 plus Gaddafi followers were killed in 2011.)
Yesterday, prosecutor's office in Libya announced that detained ISIS members disclosed the location of the graves and details of the massacre. They were arrested the last week. Authorities went to the site and uncovered the bodies.[More...]
(580 words in story) There's More :: Permalink :: Comments
Iraqi Prime Minister Haider al-Abadi is in Mosul today to declare liberation of the city.
But the end of the Islamic State's hold on Mosul does not mean peace is at hand. Other cities and towns in Iraq remain under the militants' control, and Iraqis expect an increase in terrorist attacks in urban centers, especially in the capital, Baghdad, as the group reverts to its insurgent roots.
There are still ISIS pockets fighting. That didn't stop the Prime Minister who tweeted out victory this morning. [More...]
(5 comments, 1106 words in story) There's More :: Permalink :: Comments
Last month, ISIS banned its fighters from using social media. It had done so before, but not so forcefully. Now it threatens those who disobey with punishment. Here's a good article, THE ISLAMIC STATE'S INTERNAL RIFTS AND SOCIAL MEDIA BAN, on why ISIS is going this route, from the Combatting Terrorism Centre at West Point.
ISIS has been gone from Twitter for ages. (Al Qaida-affiliated groups are still around, as are the Syrian "rebel" groups and the Taliban.) Telegram channels for ISIS official news (Nashir/Nasher) seems to change every few hours.
ISIS will be defeated militarily in Iraq and Syria for now, but it's not going anywhere except underground. It will return when it's ready. It's already spreading in countries in Africa and Asia. [More...]
(1 comment, 429 words in story) There's More :: Permalink :: Comments
James Mattis, Secretary of Defense, said today on CBS' Face the Nation that the U.S. is shifting to "annihilation tactics" on ISIS.
"We have already shifted from attrition tactics, where we shove them from one position to another in Iraq and Syria, to annihilation tactics where we surround them. Our intention is that the foreign fighters do not survive the fight to return home to North Africa, to Europe, to America, to Asia, to Africa. We're not going to allow them to do so. We're going to stop them there and take apart the caliphate."
He also said civilian deaths are to be expected.
"Civilian casualties are a fact of life in this sort of situation...."We're not the perfect guys, but we are the good guys. And so we're doing what we can."
[More...]
(7 comments, 324 words in story) There's More :: Permalink :: Comments