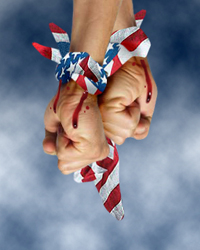 Never forgive, never forget. The media barely mentions the U.S. prison at Guantanamo Bay, Cuba or its detainees anymore, some of whom have been held for 20 years without trial. But the facility remains open at an exorbitant cost ($13 million per year per detainee as of 2019 -- 40 detainees remained at that time) and pretrial hearings for many of these remaining detainees are ongoing.
Earlier this week, Carole Rosenberg of the New York Times, who has dedicated the last 20 years of her career to covering Gitmo, reported on a hearing at Gitmo at which James E. Mitchell, "the psychologist who helped develop the C.I.A.'s torture program", testified as to the "approved and unapproved interrogation techniques (aka torture) he personally participated in and witnessed of Abd al-Rahim al-Nashiri, who will be facing a death penalty trial sometime this century for the 2000 attack on the U.S.S. Cole near Yemen that killed 17 U.S. sailors.
Maybe water-boarding is considered too ho-hum to report on these days, but Dr. Mitchell's testimony regarding forced anal feedings; forcing naked detainees into a small crate box (image here) like a dog; using a stiff bristle brush to scrape the detainees an*s and then put it in his face and mouth, and other disgusting treatments are not.
We should all make it a point not to forget the atrocities that have occurred in our name at the behest of some of the most heinous politicians in U.S. history. Dick Cheney, are you listening?
(4 comments) Permalink :: Comments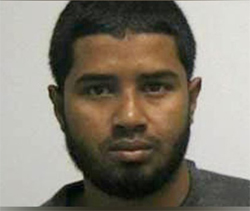 Bangladeshi government officials have told the U.S. that Akayed Ullah is a product of U.S. homegrown terrorism.
Bangladesh has communicated with the US government that it has no record on Akayed Ullah's involvement with the militancy here and termed him as a "homegrown US terrorist," a senior Bangladesh government official said on Tuesday.
Here is the Affidavit in support of the Complaint against Ullah. Among other things, it states that Ullah wrote on his FB page, "Trump you failed to protect your nation."
The Affidavit states Ullah told authorities his attack was ISIS-inspired and he began following ISIS sites online in 2014. (What took him so long to act, and why now, after ISIS has lost so much ground in Syria and Iraq?)
ISIS has been calling for homegrown attacks in the U.S. and Europe since shortly after it declared its Caliphate in June, 2014. Deceased ISIS spokesman al-Adnani called for homegrown attacks in September, 2014. [More...]
(6 comments, 858 words in story) There's More :: Permalink :: Comments
ISIS claimed credit for today's dual attacks inside the Iranian Parliament and at the mausoleum of Imam Khomeini, the late founder of the Islamic Republic, which killed 12 people and wounded dozens. ISIS's affiliated news agency A'maq posted a short 25 second clip showing one person dead inside parliament.
Iran's supreme leader Ayatollah Ali Khamenei said:
"The Iranian people are moving forward, and today's fumbling with firecrackers will not affect the will-power of the people. Everyone must realize this, the terrorists are too small to affect the will of the Iranian people and the authorities'. This also reveals that if the Islamic Republic had not resisted, at the center of all this conspiracy, we would have had much more trouble of this sort in the country. God willing, they will "bite the dust."
[More...]
(195 words in story) There's More :: Permalink :: Comments
The third London attacker has been identified as Youssuf Zaghba, 22, who lived in East London. He is an Italian national.
The third London Bridge attacker has been named as Youssef Zaghba, a 22-year-old son of an Italian mother and Moroccan father who was reportedly stopped at Bologna airport in 2016 bound for Syria via Turkey and told officials "I am going to be a terrorist".

....According to reports in the Italian press, Zaghba had recently been working in a Pakistani restaurant in London. He was reported to have been on Italy's list of persons at risk.
Italian officials say they notified British police about him when he left for London: [More...]
(4 comments, 279 words in story) There's More :: Permalink :: Comments
Two of the dead London attackers have been identified.
27-year-old Khuram Shazad Butt, a British citizen who was born in Pakistan, and 30-year-old Rachid Redouane, who had claimed to be Moroccan and Libyan. Both lived in the Barking area of east London, the scene of multiple police raids since Sunday. Police did not identify the third attacker, saying efforts to confirm his identity are ongoing.
You can see Khuram Shazad Butt in this Channel 4 News Special called The Jihadis next door. It was filmed in 2014 (aired later) and he is the one unfolding the ISIS flag in the park and buzzing around when his preacher gets hassled about the flag by police. The Daily Mail has more. Contrary to some news reports, he was not involved in an altercation in the film. It was his preacher who became beligerant. He had a very minor part in the film. According to friends, he became radicalized by watching You Tube films.
(2 comments) Permalink :: Comments
For days, police in the UK informed the media they were snatching up the major players in Salman Abedi's terrorist network in Manchester. Despite 16 arrests, today today the Manchester Police acknowledged that the "network" theory isn't panning out. It appears he acted alone. Here is the latest release by the Manchester Police Department.
Police now say Abedi bought the materials himself and built the bomb on his own in the four days after he returned from Libya.
Five of the people arrested have been released, three of them today . More releases are expected. [More...]
(1767 words in story) There's More :: Permalink :: Comments
The Department of Homeland Security issued a press release today saying no decision has been reached on banning laptops (large electronic devices) from overseas flights, but it's under consideration. DHS Secretary John Kelly had a phone call today with some European security officials.
Finally, while a much-discussed expansion of the ban on large electronic devices in the cabin on flights to the United States was not announced today, the Secretary made it clear that the an expansion is still on the table. Secretary Kelly affirmed he will implement any and all measures necessary to secure commercial aircraft flying to the United States – including prohibiting large electronic devices from the passenger cabin – if the intelligence and threat level warrant it.
The Manchester bombing investigation continues. The focus now is on determining whether the attacker, identified by UK police (after it was leaked by U.S. officials) as native British citizen Salman Abedi, acted alone.
This is a long post. While the info is current as of the time I am posting this, it will likely change in the coming days. That said, here's my assessment of what happened and what we learned yesterday. Feel free to add more information in comments. [More...]
(2 comments, 1690 words in story) There's More :: Permalink :: Comments
19 people are dead and at least 50 were injured when an explosion occurred at the end of an Ariana Grande concert in Manchester, UK. Police are treating it as a terrorist incident. Ariana had just finished her set and had just left the stage when the explosion occurred.
The Greater Manchester Police twitter feed with updates is here.
There are no clues yet as to who is responsible. While ISIS is an obvious possibility, it could also be al Qaida (Osama bin Laden's son Hamza bin Laden released an audio message this month calling for attacks in the west as did AQAP in Yemen. [More...]
(9 comments, 776 words in story) There's More :: Permalink :: Comments
The blast at the St Petersburg train station was reportedly a homemade bomb of TNT with shrapnel. At least ten people died.
So far,leaders of several countries have sent their condolences to Russia. Where's Trump? He isn't mentioned. In fact, when given the opportunity to say something, he declined:
When a reporter asked Trump if he contacted the Russian President Vladimir Putin in connection with the terrorist attack in the metro St. Petersburg, [Trump] did not say anything.
[Added: He
later spoke to Putin by phone
and offered U.S. support in the investigation. [More...]
(4 comments, 296 words in story) There's More :: Permalink :: Comments